Let's face it – no total body or maternity support pillow is going to win any awards for style or beauty. What you are looking for is comfort and whether it's going to give you the correct support for your body and growing baby.
In your search for the perfect pregnancy pillow, you will no doubt have been faced with a bewildering choice of shapes. I am here to guide you through some choices that will help you feel more comfortable while you sleep.

Safest Sleeping Position for Pregnancy?
Lying on your left side will increase your circulation providing a super-highway for nutrient-filled blood to be carried from your heart down through the placenta to your baby.
Why you shouldn't just stack up pillows.
Stacking up pillows around you is a bad idea, at best giving you lumpy and uneven support and at worst bunching up and poking into you, adding concentrated areas of pressure which is the very last thing you want.
There are a number of recommended support pillows available that will give you a safe and even support helping you to sleep comfortably on your side, and some will actively prevent you from rolling onto your back or front too!
Let's start by talking about U- shaped support pillows which generally give you the most effective all round support and have relatively few drawbacks in terms of their functionality.
U-Shaped Maternity Pillows
What's Good About Them…
What's so great about the U-shape is its ability to fully support your back, belly, hips and legs, no matter which side you sleep on.
While favoring your left side is a good idea, the truth is, most of us turn over frequently in the night and this is not a bad thing. Think about it, if you slept all night, every night, only on your left side, your left hip and shoulder are eventually going to let you know they are not happy.
Being able to turn over without re-adjusting the whole pillow will mean you don't wake up too much and for those that might otherwise wake easily and find it hard to get back to sleep, the U- shaped pillow is most likely your best option.
You will notice that most of the maternity support pillows out there, whichever shape you go for, have a pillow area incorporated into the design. This is great if it feels comfortable – it means that the head section and body section of your pillow won't go adrift in the night. But what happens if you want all-round support but prefer to use your own pillow?
Well, again the U- Shaped pillow is a good choice in that if you don't feel like the pillow area is as comfortable as your own pillow, you can if you like, turn the "U" upside down. That way you will still get excellent back, hip, leg and now ankle and foot support!
Another great feature of these pillows is their versatility, in that they can be wrapped around you and used as support while feeding your baby later on.
What's Not So Good About Them…
Of course, all this support does have its drawbacks. While you and your baby are cozy in your own little nest together, your partner is going to be stuck out there on a branch all alone.
No two pregnancies are alike, even for the same mother, and the U-Shaped pillow may be more support than you actually need. If you overheat easily, this pillow, being enclosed on both sides may also be a little too warm for your liking.
If you overheat easily, this pillow, being enclosed on both sides may also be a little too warm for your liking.
However, if you are struggling to get comfortable and need the maximum area of pressure relief available, then a U-Shaped support pillow has all the comfort and support you could wish for.
What to look

out for…
Choose a pillow that has a gusseted panel sewn in around the tight curve where your head and neck go. Without it, and many don't have this feature, there would just be a tight sharp seam that could dig into your neck or shoulder while you sleep.
The gusset maximizes the useful area of the pillow section and allows you to comfortably tuck the pillow under your chin.
If you are in the US, The U Shaped-Premium Contoured Body Pregnancy Maternity Pillow with Zippered Cover is a good choice available here.

If you are in the UK, The Queen Rose ZZZ's U-Shape Pregnancy Support Pillow, right, is also an excellent option available here.
Next, we will take a look at C-Shaped Support Pillows.
C-Shaped Maternity Pillows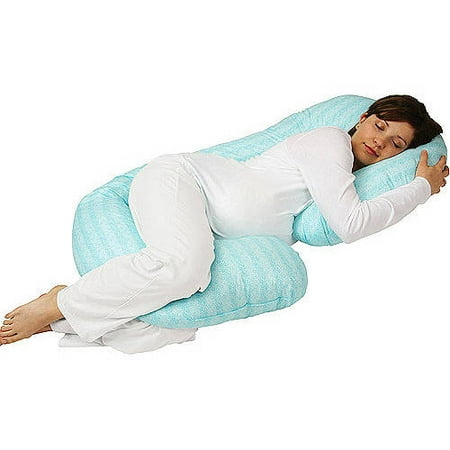 These pillows vary more in shape than the U-shaped pillow – some are called C-Shaped but look more like a "J" or a "G" or vice-versa. What they all have in common is that they are open on one side, are versatile and flexible.
What's Good About Them…
If you tend to get too warm, you don't want to feel enclosed or you want to be able to sleep closer to your partner, this shape is an excellent choice for you.
Where C-Shaped pillows really come into their own, though, are in their ability to help you sleep comfortably on your left side. If you don't tend to turn over too frequently in the night, one of these pillows could help you to favor your left side.
While C-Shaped Pillows don't provide the same support on both sides, that is not to say that you will only feel comfortable if you sleep with it one way around! Sleep with your back into the curve and tuck the end through your legs as shown in the photo above left of the Leachco Sleeper Keeper and you will have perfect, secure support for your back – this pillow won't stray off the edge of the bed in the way that one leg of the U-Shaped pillow might.
You can, of course, also sleep very comfortably with your front-facing, the curve too but bear in mind this way may not prevent you from occasionally rolling onto your back. Using the pillow either way, however, will feel comfortable, help align your hips correctly and take the pressure of your ligaments.
What's Not So Good About Them…
Generally speaking, if want the exact same comfort and support on the opposite side, you would have to flip the whole pillow when you turn over. At the very least you will first have to untuck the pillow from between your legs before you can turn over – even if you leave the pillow facing the same way.
This may or may not be a concern for you, but if you wake easily and find it hard to get back to sleep, turning the pillow or untucking and retucking yourself into the pillow each time you turn over, may wake you up too much.
View The Leachco Sleeper Keeper by Leachco if you are in the US or read on for more choices including a UK option.
What stands out, for me, about the Leachco range is that there is such a wide choice of options available for example…
Want a removable cover?
LeachCo Snoogle Original Total Body Pillow is soft but supportive and versatile and at 12″ wide it's also wide enough to give you plenty of huggability.
Made in the US, all Leachco Snoogle Original Total Body Pillows have a housewife style pillowcase openings and are machine washable.
Replacement covers are also available should you need one.
Want

a zippered c

over?
The Leachco SnoogleChic version is the same as the original version, both have a 100% polyester fiber-fill but this version features a zippered removable cover in a soft jersey knit made from 100% Cotton.
Spare covers are also available for the "Chic" version.
Want an organic cover?
The Organic Smart Snoogle Chic comes with a 100% organic cotton cover.
Spare covers for the Organic Smart Snoogle Chic are available too.

If you are in the UK the Motherhood Sleepy-C Maternity Support Pillow, below left, is an ideal choice for a C-Shape. Manufactured to oeko-tex standard 100, it's kind to you and the environment. It features a removable pillowcase cover made from 100% cotton, has a 100% cotton lining and is filled with Lentex Balls which in case you were wondering, are antiallergenic silicone fibers formed into balls! Both the pillowcase and the pillow itself are machine washable.
Want to Get Back to Sleep Quickly? – Stay Right Where You Are!
If you are petite or just want basic support and don't want to have your pillow take up too much room in the bed, then an "I" or a "J" may be your best choice of support pillow. We will take a look at these now.
If you tend to wake up and can't get back to sleep very easily – don't get up and go to the bathroom unless you have to. When you get up, your heart rate naturally increases. It then needs to slow back down again in order for you to sleep and this can take a little time. If you get up just out of habit, you are unnecessarily having to wait for your heart rate to slow down again usually to around 60 bpm before you can fall asleep again.
I or J-Shaped Maternity Pillows
We will discuss these two shapes together in this section as they have more in common with each other than they have differences.
The J-shape may be called an "r" or "L" but they are basically a long body pillow with a curved top which creates a pillow area for your head. If you feel that your own pillow is so comfortable that your sleep quality would be impaired without it, but you still want a full body pillow to snuggle up to, then a straight I-Shaped pillow would be your best option.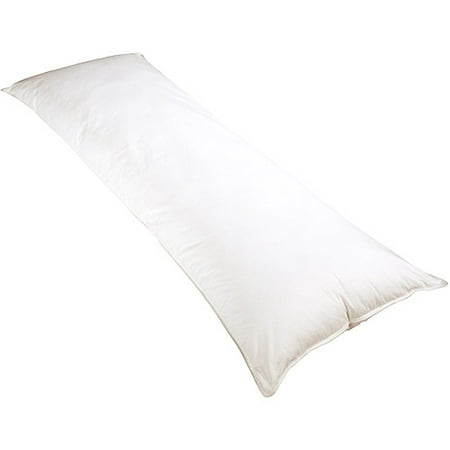 The 200-Thread Count Body Pillow by Walmart US below right is an ideal choice. At 20″x54″ it is a good standard size. This full-body support pillow is not only good value for money, but it is also substantial being overstuffed but it is still super soft and will provide you with plenty of support.
One advantage of the integral pillow, however, is that head and body section of the pillow won't drift away from each other during the night. If you are tall, you may find some "r" "L" or "J" shapes a little too short for you, but you could opt for an extra long "I" if you prefer this shape, and then just curl the top round for a pillow.
Why this shape may be right for you…
Not everyone feels they need maximum support to sleep well and these pillows are versatile. If, for instance, you just want a pillow to stop you from rolling onto your back, then placing an "I" behind you will not only help you to stay on your side but in giving you something to lean against, it will support your back giving you a more comfortable sleeping position.
You will also be able to sleep closer to your partner without the pillow necessarily always being in the way.
If you sleep facing into the "I" or "J" and tuck the pillow between your legs, it will align your hips, taking the pressure off your ligaments and knees and it will give you excellent support for your belly – helping you to sleep comfortably on your side. Lastly, if you are petite, the "U" or "C" may swamp you a little too much.
To view, click on the Snoozer DreamWeaver Full Body Pillow US shown, above left, click the photo.
If you are in the UK the
Finally, we will take a look at smaller or more compact pillows.
Smaller, Belly or Wedge Maternity Pillows
For the Petite
Or if you want to use your own pillow
If you are on the petite side and want to avoid the possibility of being swamped by a full body pillow that is way bigger than you need, there are some excellent options available for you that won't take over the whole bed.
Leachco Preggle Comfort Air-Flow Body Pillow US only is ideal if you are petite and the taller ladies amongst you may find this a good option if you prefer to use your own pillow. Leachco Preggle Comfort Air-Flow Body Pillow comes with an attached strap at one end which can be safely tucked away if not in use.
You simply position the pillow into a shape that you find comfortable and wrap the strap round to secure and hold the pillow in place.
This pillow is very versatile and can give you good support wherever it is most needed – tucking the curve between your legs, for example, will align your hips while the longer section will support your belly.

Another small and versatile, but compact support cushion worth checking out is the Sleeper Keeper Mini Maternity Pillow by Leachco. This pillow can be positioned in a number of ways without taking up to much room. Click on the photo, right, to view more.
Wedge pillows are obviously not going to help any hip or leg problems and can't support your back while they are supporting your belly – as they can only be in one place at a time, but they do have some valuable plus points.
If you travel, they are compact enough to take with you.
If you have a comfortable bed and have no hip or back problems, they will support your belly perfectly taking the weight, and therefore the strain, off your bump.
Single wedges are minimally intrusive so you can sleep closer to your partner, but are most suited to natural side sleepers so if you tend to roll over onto your back, you should think about choosing one that has a back support attached or buy an extra wedge to tuck behind you.
The Leachco Cush Up US only, below, is a good choice for a wedge pillow. The angle of the wedge rise prevents you from rolling over too far and there is an in-built base to keep the pillow securely in place. The pillow is well filled with a 100% polyester fiber-fill but still feels soft against your body.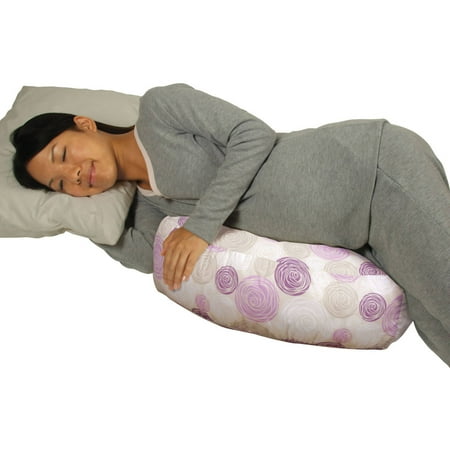 ---
If you are a natural side sleeper, a simple wedge cushion may be all you need, but if you want a small support pillow with maximum versatility the Boppy Support Pillow, surely takes the prize.
Now, this is what I call good design! I mean this pillow, for its small size, really packs a punch. It's just so versatile! You can tuck it between your legs, either way, to help with hip alignment and while one way will support your hips and belly, turn the pillow the other way around and it will support your hips and back – all without taking up too much room in the bed.
The fact that you have the option to use your own pillow has to be a big plus point and being able to sleep closer to your partner, while still feeling the benefit, comfort, and support of the pillow is a real bonus!

View the Boppy Support Pillow US & UK, at Target here.