If you'd love an Eames chair, but don't have the budget for the official one, why not go for the best Eames chair replica you can get?
You might say I'm a tiny bit obsessed with mid-century modern design, and what better way to make a statement than with such an iconic chair? That's what started me off on my quest to find a really good replica back before I bought my first one. And why I looked into others after that. It gets addictive, you know.
It's been more than 4 years now since I started following the Eames replica market. I have contacted manufacturers, I have taken into account verified customer reviews and I've compared each of the replicas below to the original Eames chair to find the best Eames replicas currently on the market today.
If you want more general information about the dos and don'ts of buying an Eames chair replica before you decide to take the plunge, I have written a more in-depth buying guide for you here.
But if you'd just like to get straight to the picks, here they are. So let's start with my top recommendation: theiconicchair.
Do be warned this chair isn't the cheapest but it is, by far, the highest quality and closest to the original design that you can get.
And here's a Promo Code for our top pick.
Save $150 Use Code: COMFYZEN150 at the Iconic Chair.com
Looking for a high-quality replica of the iconic Eames Lounge Chair and Ottoman? Look no further than theiconicchair!
Top Choice
theiconicchair.com
This one is by far the most popular replica – that people go for…
This chair is the real deal, with a wide selection of colors and veneer options, as well as being available in both standard and tall sizes. And with over 10 years of experience in manufacturing, theiconicchair is a company that truly knows what they're doing. The result is a chair that looks and feels as close to the original Eames design as you can get, without breaking the bank.
When I first laid eyes on theiconicchair, I was immediately impressed by the attention to detail and the dedication to quality that sets this chair apart from others on the market.
One of the things that really sets this chair apart is that just like the original there is a clip system that allows the flower crease buttoned cushions to un-hook from the shell. This may seem like a small detail, but it has a big impact. By allowing the cushions to be replaced, repaired, or reupholstered, it extends the life of the chair and makes it a more sustainable and cost-effective purchase. Other replicas often have fixed cushions that are stapled or Velcroed in place, which is not only less durable but also less versatile.
Another impressive detail is the fact that the shells are veneered on the inside, just like the original. This is a detail that is often overlooked on lower-quality replicas, but it adds a level of durability and authenticity that is hard to beat.
And speaking of durability, the black, die-cast five-point aluminum base is the same one designed by Charles and Ray Eames more than 60 years ago, ensuring that this chair will last for years to come.
I made the sketch below to show at a glance the difference between the two styles of feet you'll find on the official design, but if you want to stay as authentic to the original 1956 design as possible, then you should go for a Herman Miller replica.
Of course, a chair is only as good as its comfort level, and theiconicchair.com has really outdone itself in this regard. The chair now features premium open-cell foam cushions, which are much softer and less dense than the heavy memory foam used in many other replicas. This makes for a much more comfortable and supportive sit, and it brings the chair closer to the comfort of the original Herman Miller chair.
The cushions are made from full-grain semi-aniline leather imported from Italy, providing the perfect combination of quality and durability. Aniline leather is the highest quality leather you can get, and the Iconic Chair uses a fine protective coating to make it less sensitive to water and grease marks. This makes it a great choice for families with young children or pets, and it will age beautifully over time.
Additional details, often lacking in lesser quality replicas, include rubber shock mounts underneath the armrests and between the head and the backrest which allows for flexibility, deep buttons to create that famous Eames flower crease, as well as the 15-degree fixed tilt and 360-degree swivel which are stipulated in the original design.
I know haven't mentioned the quality of the plywood shells yet, but they are spot on. Made from whole sheets of high-quality FAS-certified cuts of hardwood. 7-py plywood just like the original.
Available in an impressively wide range of color options – this is something you generally only get with a real Eames – this replica is also available in the Tall Version. This adds an extra 2.5″ to the height, which if you are taller, you may find more comfortable. There's a fair amount of debate about the size of the Eames chair. But this actually based on a misconception about the design.
People think the top shell is designed to support the head. I think this is simply because of the way the design looks. But similar to the Barcelona chair, for example, the top shell is there to support your shoulders. Take a look at this video showing various people of different heights sitting in the chair, if you need help choosing the correct size.
In short, the attention to detail and dedication to quality are truly impressive, and the result is a chair that is comfortable, durable, and authentic. If you're in the market for a replica Herman Miller chair, I highly recommend giving theiconicchair.com a try – you won't be disappointed.
What We Like:
Faithful reproduction of the original Herman Miller Eames chair
Removable premium open-cell foam cushions
Veneered shells inside and out for added durability
Upholstered in full-grain semi-aniline leather imported from Italy
7-ply wooden veneers kiln dried for added durability
Available in a variety of wood finishes to match any decor
Less sensitive to water and grease stains than full aniline leather, making it a great choice for families with young children or pets.
Buying Factors to Consider:
It's not the cheapest. If you want the look and are prepared to sacrifice the extra details, to get a cheaper chair you should also consider the I Inchome, the Rimdoc both of which are cheaper.
Runner Up
By 1inchome
The 1inchome is our clear winner in this lower-priced category.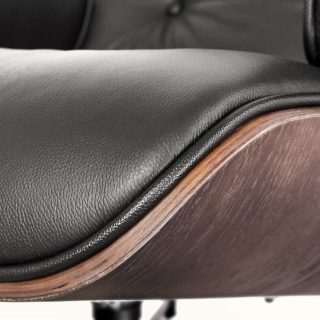 First off, if you compare it with others we've seen that are made from leather or leatherette, this one is high-quality machine-stitched top-grain leather.
It also features 7-ply high-density natural laminated wood which makes it a more faithful copy of the original, than some that boast of "new 8- layers" of laminated wood.
You also get a good choice of veneer finishes including walnut, palisander, and black ash (which is an alternative to ebony ash ) – all of which are options you could choose from if you were to go for the official version.
The chair ticks all the essential boxes that an authentic Herman Miller-style chair would, including having that natural incline to the correct fixed angle of 15 degrees.
It doesn't have detachable cushions (as you'd no doubt already have guessed) but that's one way to cut down on cost without compromising the look or the overall quality of the chair.
With this one, you can even choose between normal size or an upgrade which is the taller version.
What We Like:
High-quality genuine leather construction
Close reproduction of the original design
Reasonably priced for a chair and ottoman set
Buying Factors to Consider:
It won't feel quite as soft as our first choice which features super-soft open-cell foam, but as a reproduction of the mid-century iconic Eames, it would make a stunning centerpiece to any living space, as well as a relaxing and comfortable place to lie back and put your feet up.
It's a well-made chair, built to last, and nicely finished, complete with tufting and buttons.
Check the latest price and color options for Mid Century Lounge Chair with Ottoman by 1inchome on Amazon.
Also Great
By Rimdoc
A like-for-like alternative to the 1inchome Replica
We wanted to include the Rimdoc in our top picks because it's another very good choice. In fact, there really is nothing between this one and the replica chair and ottoman we have just looked at.
And that's because they are essentially the same chair.
For that reason, we won't go into details on this one as the spec is just the same. It too is made from high-quality machine-stitched leather. It also features a 7-layer plywood frame and a coated black aluminum base.
One thing I do want to point out is that just because the chair has only recently been reintroduced after being absent for some time, there aren't yet many customer reviews for this listing, but be assured this chair has been a very popular choice with customers in the past.
Do check the latest price and color options for Mid Century Lounge Chair with Ottoman by Rimdoc on Amazon if you are interested in this one, – particularly because the prices between the Inchome and Rimdoc often do vary.
Best Budget Choice: Leather Recliner with Ottoman by TOME
Leather Recliner with Ottoman by TOME
This one is currently out of stock but I'll leave the review in as it may be helpful for comparison.
This is a great lower-priced option to go for. Unlike many replica chairs, in this price range (the Barcelona chair replica budget options being a case in point), this replica actually retains the look of the original Eames.
The fact that it stays faithful to the original Herman Miller design down to black-coated aluminum five-point base means there's nothing cheap looking about it.
For us what makes this one stand out from others in this price range is that it's not made from PU or fake leather, it's actually made with real leather upholstery.
Where it does differ from the others we've looked at – and indeed from the original design is that instead of the traditional 7- layer plywood frame stipulated in the rules for the modern authentic design it has a somewhat unusual 8 -layer plywood shell.
Draw from that what you will, to us it indicates the plywood is of lower quality and the extra layer is there to compensate so the shell's sturdiness isn't comprised. That being said, the 8 layers of plywood do give the shells a slightly more robust appearance which to us, and customers who went for this chair, is aesthetically pleasing, and overall if you were to compare this one with the higher quality replicas it wouldn't look out of place.
The shell is made by hand, the cushioning consists of memory foam filling, and the chair even has the rubber shock mount detail, connecting the head and backrest that high end, and indeed the original chair all have.
What We Like:
Good Value For Money | It's a good copy that's stayed faithful to the original design. For that reason, there's nothing cheap looking about it and it is good value for the price.
Check the latest price of Leather Recliner with Ottoman by TOME on Amazon.