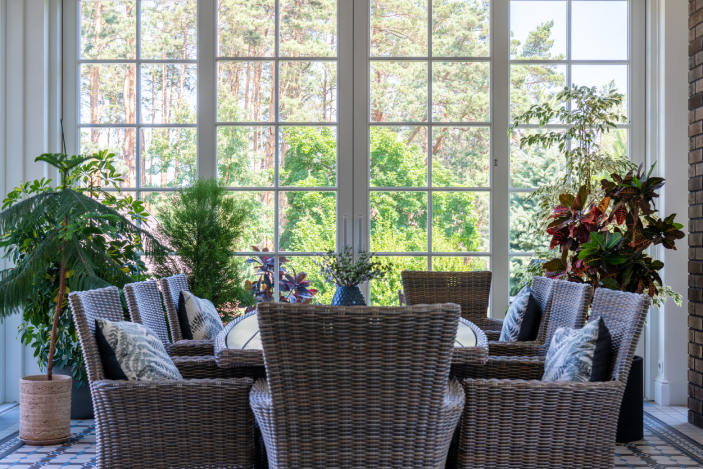 Wondering whether to lay carpet vs tiles? I'll get straight to the point. In a kitchen or bathroom, where spills and splashes are inevitable, tile is the more practical choice. Whereas in a bedroom or living room, where comfort and warmth are key, carpet is the way to go.
Here are the best options for each room:
Kitchens: Tile
Bathrooms: Tile
Entryways: Tile
Sunroom: Tile
Bedrooms: Carpet
Living rooms: Carpet
But there are pros and cons to both tile and carpet that you might want to consider before laying either one.
The Advantages of Carpet: When it's the Right Choice
Carpet is a versatile flooring option that offers more than just a cozy place to walk on. In fact, it has the ability to positively affect your mood by adding warmth and comfort to a room. This makes it a great choice for spaces like bedrooms and living rooms where you want to feel relaxed.
But that's not all – carpet also has sound absorption properties, making it an excellent choice for rooms with a lot of activity or if you have neighbors above or below you. No more stomping or thudding noises disrupting your peace!
On top of all that, carpet is generally more affordable to install compared to tile, especially if you opt for a lower-cost variety.
The Disadvantages of Carpet: When it's Not the Best Option
Carpet may be the coziest flooring option out there, but it does require a bit of TLC to keep it looking fresh. Stains can be a pain to remove and it's a bit of a magnet for allergens like dust and pet dander.
But before you completely write off carpet, consider where you're planning on installing it. Kitchens and bathrooms might not be the best fit. And while an entryway may seem like a good idea at first, it could turn into a never-ending game of 'stain roulette.'
However, there are some perks to keep in mind – like stain-resistant and bleachable options that make maintenance a bit easier. Just remember to weigh the pros and cons before committing to a new carpet installation.
On the other hand, tile has its own set of pros and cons:
The Advantages of Tile: When to Chose it
Tile has several factors in its favor. One major benefit is durability. Tile is a tough material that can withstand heavy foot traffic and resist stains, making it a good choice for high-traffic areas like kitchens, bathrooms, sunrooms, and entryways. In addition, tile is easy to clean and maintain. Simply sweep, mop, or vacuum to keep it looking fresh and new. Another advantage of tile is its versatility. It comes in a wide range of colors, patterns, and styles, so you can choose the perfect look for your home.
Tile makes a particularly fantastic flooring option for an entryway – its durable, easy to clean, and available in a wide range of styles and colors. Whether you opt for classic ceramic tiles, sleek and modern porcelain tiles, or colorful and patterned mosaic tiles, the possibilities are endless. Plus, tile can withstand the wear and tear of daily foot traffic.
With the right tile selection, you can easily create a stunning and stylish entrance that's sure to impress guests and set the tone for the rest of your home.
The Disadvantages of Tile: When to Avoid
However, there are also a few cons to consider when it comes to tile. One potential drawback is that unless you install underfloor heating – which can be costly – it can feel very cold and hard underfoot. This would be particularly uncomfortable in certain rooms like bedrooms or living rooms. And while it's not necessarily as slippery as you'd think, anyone vulnerable to falls should definitely avoid tile like the plague.
Tile can also be more expensive to install compared to carpet, especially if you hire a professional and, of course, it's not straightforward to replace if you change your mind. Additionally, grouting can become soiled over time and it's a bit of a pain to clean.
In Conclusion
In the end, the decision between tile and carpet for your home comes down to personal preference and the specific needs of your space. While tile is a practical and durable choice for high-traffic areas like kitchens, bathrooms, and entryways, it may not be the best option for rooms where comfort and warmth are key.
Of course, these are just general recommendations, and you may choose to mix and match depending on your personal preferences and the specific needs of your home. Ultimately, the choice is yours, so choose wisely.